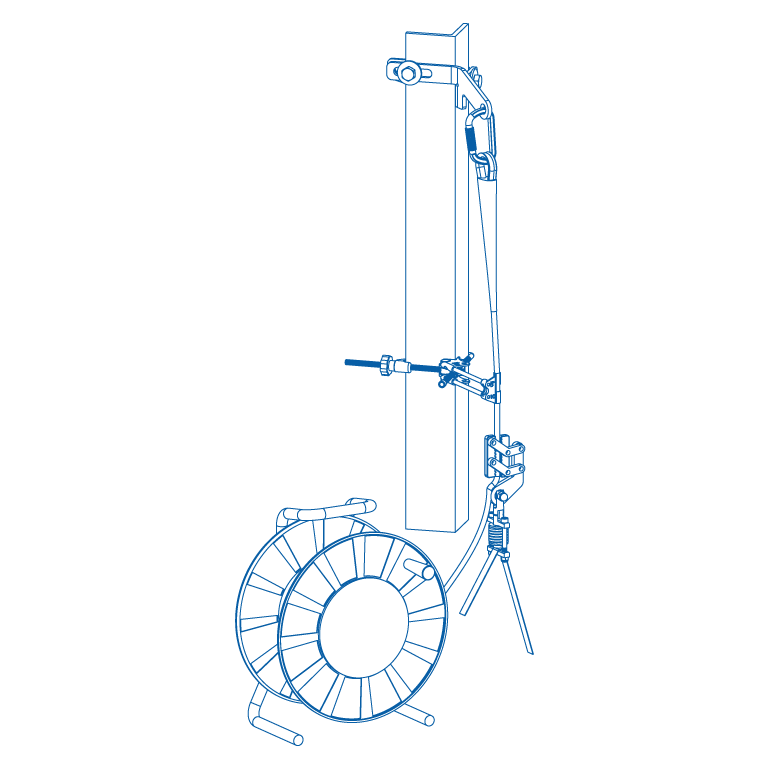 The Rapid Rail International Portable Vertical Lifeline system is ideal for multiple climbs of an infrequently climbed structure, such as restringing a transmission line. It has been designed to be lightweight, quick to install and importantly utilises a zero-stretch rope rather than traditional kernmantle which can stretch in excess of 10% in a fall situation. As with other Rapid Rail International vertical systems the portable product utilises the S-Flo rope grab which seamlessly passes intermediate brackets providing a virtual free climb and descent.
Maximum 2ft fall distance
Virtual free climb
Lightweight, zero stretch rope
How The Portable Lifeline Systems Works
The Rapid Rail International Portable Lifeline System is designed for use when infrequently climbed structures are climbed frequently, such as restringing a transmission line. The system requires a top anchor point (supplied) to be fitted and then "quick fit" intermediate brackets located at intervals between the top and bottom brackets. The S-Flo rope grab device attached to the climbers harness then passes the intermediate brackets seamlessly, as with the permanent VCS2 system, providing a virtual free climb.
At the heart of the system is our innovative zero stretch rope, a highly sophisticated synthetic product unique to the industry that is extremely lightweight and stretch resistant unlike traditional kernmantle rope which can stretch in excess of 10% in a fall arrest situation. It is supplied on a reel for easy portability and storage. The 50m (165ft) version has a combined weight of less than 10kg (22lbs).
Portable Verticle Lifeline System Features
Quick and easy installation
Tope bracket can remain for future climbs
Zero stretch rope
Virtual free climb
Reduced climb and descent time
Complies with relevant international safety standards
Applications for Portable Lifeline Systems
Electrical Utility Transmission Structures
Wind Energy
Tower Cranes
Industrial Ladders
Get In Touch
Get in touch with us using the form below and one of our representatives will be in touch shortly. If you would like to send an attachment to us then please use the 'Choose File' box on the form.
Alternatively contact us on +44 (0) 1633 870676 from the U.K. or +1 (610) 295 5479 from the U.S.