Fixed Ladder Fall Arrest System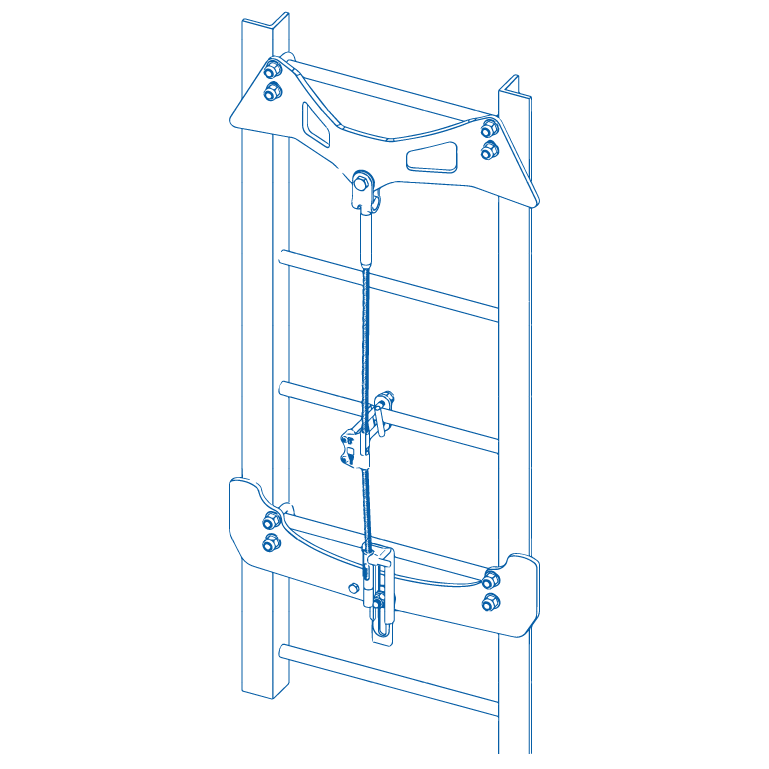 The Rapid Rail International vertical lifeline system for permanently installed ladders provides safe ascent and descent of industrial ladders. The wire rope based fall arrest system can be fitted to new or existing ladders and is uniquely engineered to protect the worker in the event of a fall, whilst maintaining the structural integrity of the ladder.
100% tie off at all times while climbing and descending
Maximum 2ft fall distance
Compatible with most fixed industrial ladders
How The RRI Fixed Ladder Vertical Lifeline Works
The Rapid Rail International Ladder System is a cable-based fall arrest solution for permanently installed industrial ladders. Our system allows safe ascent and descent of ladders providing a virtual free climb and ensures that any fall is arrested within 2ft, reducing the potential of injuries. Uniquely the top bracket is designed to distribute fall arrest forces to the outside of the ladder as compared to competitor to systems where the fall arrest forces are through the centre of the rungs, typically the weakest part of a ladder.
Permanently Installed Ladder System Features
Quick and easy installation
Simple training for inspection and use of the VCS system
Robust design using corrosion resistant material suitable for use in most environments
Industry unique 20-year warranty
Reduced climb and descent time
Complies with relevant international safety standards
Bespoke solutions available
Applications for Permanently Installed Ladder Systems
Wind Turbines
Telecomunications
Tower Cranes
Industrial Ladders
Outdoor Advertising
Get In Touch
Get in touch with us using the form below and one of our representatives will be in touch shortly. If you would like to send an attachment to us then please use the 'Choose File' box on the form.
Alternatively contact us on +44 (0) 1633 870676 from the U.K. or +1 (610) 295 5479 from the U.S.